WATCH VIDEO BOOKTRAILER

►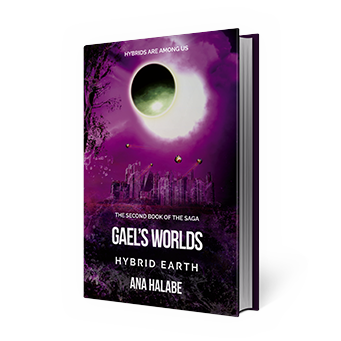 @historiasentretusmanos: This sci-fi saga is unbelievable, it´s excellent. You like extraterrestials? Apocalyptic stories? Romance? This story has it all!
@nanbooksarg: ¡I was really impressed! Every chapter keeps you on the edge of your seat. I felt as if I were watching a movie; I got emotionally involved in every paragraph and wanted to read more and more!
@flyingbetweenbooks: I would like to call attention again to the author´s utterly enthralling way of writing. It leaves you wanting to know more and more and the character constructs continue to be impeccable. A super recommended saga for those who like immersing themselves in the sci fi world.
@aficionadaalalectura: It has a lot of action and tension. It continues to be a short book, easy to read, with an excellent plot. Everything is well thought out and leaves no loose ends. I liked the first book of Gael's Worlds, but I thought this one was fascinating.
@hundidaenunmardehistorias: In this second part there is more action, more resistance, more struggle, and dystopia. It is a truly moving follow-up. It leaves you wanting much more. I´m dying to read the third part!
@unacortedelibros: We know Leiana, the first hybrid human, and my favorite. It´s very entertaining, the ending was great, and left me wanting to read the third part now!
@il0ovebooks: It´s easy to read. The descriptions of the places, the dress, the technology, and the new species are more than worthy of a science fiction story. Dog is my favorite, hands down!
@unlibroenmimochila: In this second book of the saga there is a lot more action and, thanks to the author´s detailed descriptions, I was really able to imagine everything as if I were there. THE ENDING LEFT ME IN A STATE OF SHOCK!
@odisea.de.libros: I liked it a lot. I love Yseut and Gael. If you like sci fi, don´t miss out on these books. They explain everything very well and in great detail and are not in the least bit boring!
@inbooksblog: The book is gripping and I didn´t want to do anything except keep reading it. There were scenes that made my jaw drop. My favorite character is Jano. And Dog is great! That ending was awesome!
@amantedelibros96: The world the author has created is incredible. I loved every detail, from the names of the characters and their life stories to smaller things like advanced technological devices. The ending is breathtaking!
@agusentrelibros: I really liked it. It´s a pretty dynamic read. I swear that in the last 70 pages I couldn´t put it down. I need the third book now!
@paraiso.de.libros: I liked it a lot. I literally devoured the last 100 pages; the book grabs you and doesn´t let you go. And when I got to the end, oh God! I super recommend these books!
@florbookshelf: The action begins on the first page, there are moments of intense emotion and everything is developed with a high degree of fluidity. The flashbacks are very interesting. The ending was without doubt the best I have ever read. It blew my mind!
@sweetbooks.ok: This story is a super fast read; all these books leave you wanting to know more! The author knows perfectly how to captivate us and make us keep reading. Without doubt, this is a saga I will continue reading. I recommend it for everybody because it is different and very interesting!
@azulbooks: I super recommend this saga to everyone. I love it because it is highly original and for its potential. It is super addictive and intriguing. The story is well developed and never disappoints. I loved the intrigue and it left me the same way the first book did!
@chicaliteraria15: Impressive. I loved the ending and am anxious to know how things will continue. I recommend it. It has drama, action, and suspense. One of the best combinations!
@librosqueamar: This book makes you feel trapped in its pages. Jano is a big plus, a fresh face in the group. Leiana has a presence that transcends the paper and captivates you. Reading about the new leaders shows you first hand a hybrid earth that is fascinating and leaves you dying to read more!
@pasionporlibros: Her books tend to be very "visual" and this is a beautiful touch! In this book there is a lot of action, new characters are added, or put in opposition, to our protagonists. It is without doubt a very good sci fi story. I super recommend it!
@lectoescritor: Earth is as we have never imagined. This book is a very fast read and has a lot of action and adventures. It´s a good story that I want to continue reading!